TGA Analyser, 701 (LECO)
Submitted by mt on Mon, 06/17/2013 - 15:50
Area Linked to:
Applied & Analytical Chemistry
Research Area:
Other areas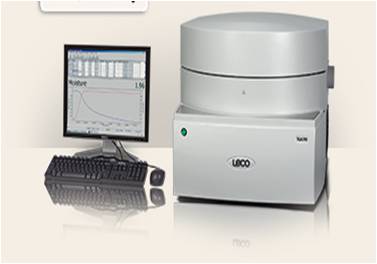 Mass Loss as Total Moisture, Ash, Volatile Content, or Loss-on-Ignition
Thermogravimetric analysis is the basic analysis in many industries to determine material weight loss as a function of temperature in a controlled environment. To meet the needs of these industries, the TGA701 Thermogravimetric Analyzer was designed for increased reliability and functionality. Expanded operational controls improve temperature accuracy across the entire range (up to 1000°C), while a pneumatic carousel assembly improves reliability by eliminating oscillation and increasing position accuracy for automation. PC-controlled Windows®-based operating software also supports compliance to 21 CFR Part 11 for a closed analytical system.