Vacuum/inert melt spinning unit
Submitted by akpanda on Wed, 08/25/2010 - 14:01
Area Linked to:
Materials Processing
Research Area:
Advanced Materials (Structural, Bio, Magnetic) & Processing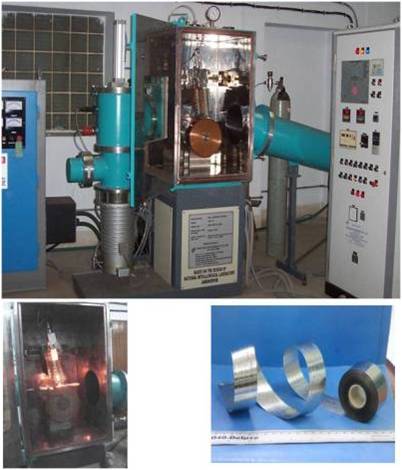 The Melt spinning unit involves rapid solidification processing route through melt spinning technique for the preparation of the ribbons directly from the melt. In this technique the molten metal is induction melted and ejected into a rotating Copper wheel. The process can be carried out in air or in inert atmosphere. The instrument has the capability of melting 1kg of Fe-based alloy. The process parameters include nozzle slit geometry, separation of nozzle slit and copper wheel, wheel speed, ejection melt temperature and pressure.
Year of Installation:
2006