You are hereFelicitation of NMD-ATM 2012 award winners
Felicitation of NMD-ATM 2012 award winners
---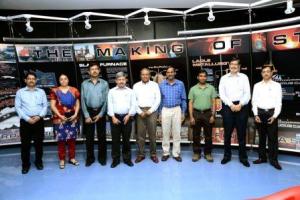 Indian Institute of Metals (IIM), Jamshedpur Chapter organises Felicitation Function for IIM NMD 2012 Awardees
Click http://tinyurl.com/co2dr6r
The Jamshedpur chapter of the Indian Institute of Metals felicitated the IIM-NMD-2012 Award winners from Jamshedpur today at Centre for Excellence.
Mr. H M Nerurkar, President of IIM and MD, Tata Steel graced the occasion as the chief guest of this felicitation function. Mr. Nerurkar in his address speech congratulated all the awardess and also appreciated the IIM Jamshedpur chapter to have managed the IIM-NMD 2012 at Jamshedpur very well. He expressed concern over the not so satisfactory participation and involvement of the young students in this field of Metallurgy and urged the Jamshedpur chapter to take steps in this direction. He did express his wish to see the Jamshedpur chapter of IIM as the flagship chapter.
The local chapter of IIM organises such programme every year to convey their greetings and gratitude to the stars of the metallurgical fraternity for their accomplishment. Jamshedpur is known to be the arcade of scholar-metallurgists and every year a number of awards are bagged by this fraternity on the National Metallurgists' Day (NMD) programme. The 50th NMD programme took place here in Jamshedpur and Mr. Nerurkar spearheaded the mega event as the President of the Indian Institute of Metals.
The list of people who got felicitated is as follows:
(1) Shri Sadhan Kumar Roy, Chief, Blast Furnace, Tata Steel, Jamshedpur
National Metallurgist Award for Industry
(2) Dr. (Mrs.) Suman Kumari Mishra, Sr. Principal Scientist, National Metallurgical Laboratory, CSIR, Jamshedpur,
'Metallurgist of the Year'
(3) Shri Arpan Das, Scientist IV, National Metallurgical Laboratory, CSIR, Jamshedpur,
'Young Metallurgist of the Year'
(4) Shri Anand Sen Vice President (TQM & KPO), Tata Steel Jamshedpur.
IIM TATA Gold Medal
(5) Shri Debashish Das Chief, LD#1, Tata Steel, Jamshedpur.
IIM O P JINDAL Gold Medal
(6) Shri Sujit Kumar Haldar Chief, Coke Plant & In-Charge, Coke Project Battery 10, 11 & BPP, Tata Steel Ltd. Jamshedpur.
IIM TSL BLACK DIAMOND AWARD
(7)Dr. Arunansu Haldar was also awarded as 'Metallurgist of the Year'. Presently he is working with Tata Steel Europe.